How's that for a title?
After the disappointment earlier, I have swung back to good food. We repeated the
Chicken Cacciatore
. Oh my stars but that chicken was DELICIOUS! Even better than last time. I also used a pepper mix this time. YUM. Last night we went shoe shopping with the difficult child, and then headed to
Olive Garden
for another shot at their Never Ending Pasta Bowl. I didn't get my money's worth, but Connor sure did. FIVE bowls, and he's only 12.
Tonite I repeated Mom's Shrimp Creole, but switched from salad sized shrimp to Medium (60-80 ct). Very, VERY tasty. I also went ahead and used my new vegetable peeler on two cucumbers for tomorrow's
Cool Cucumber Salad
.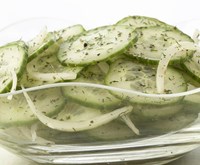 I tell you, these new/replaced tools are making a world of difference. It took half the time to peel the cucumbers compared to using a paring knife. Unfortunately my list of tools to get is growing. I am looking for my chopper (the kind you slap) but so far no luck. I am also trying to decide if I need a new slicer. I currently have a Pampered Chef Slicer similar to this one
but I wish it would be both thinner and thicker slices. Anyone got a slicer they love? Someone at work showed me his new Garlic Dicer -- it looks like a Moon Rover or something. I am almost afraid to keep looking into tools!