Born August 10, 1958. Died September 11, 2001. Grew up on Foster Avenue in Carnasie Brooklyn NY. He had two brothers (Frank and Derf) and a sister. Attended Brockport State University.
Peter was a family man from Middleton, NJ, with a wife, Patti, and a son, Peter, and a daughter Jessica. He was a corporate bond broker for Cantor Fitzgerald at the World Trade Center. Throughout everything I read as I prepared this tribute, I saw over and over again how much people remembered his smile, his friendliness, his helpfulness.
Kind and AttentiveThoughtful.
He was always thoughtful. The son of a good friend was starting high school. On the morning of the first day of classes, Peter T. Milano called the young man to wish him luck. At the end of the day, he called again to see how things went.Arriving to take the commuter ferry to New York, Mr. Milano spied a pregnant young woman waiting at the end of a very long line, carrying a package. He whisked the package from her arm and escorted her to the front of the line and onto the ferry.He never missed his son's basketball games, never missed his daughter's dance recitals. "He was an incredibly thoughtful guy," said William McGarr, a close friend.Mr. Milano, 43, was a corporate bond broker at Cantor Fitzgerald and lived in Middletown, N.J., with his wife, Patti, and their two children, Jessica, 13, and Peter, 16.About 20 years ago, he played in a pretty serious touch football league in Brooklyn. The field was asphalt; when the game ended, you felt it. After a championship game, he was introduced to Patti, who had come to watch. He spoke to her only briefly. When he got home, he told his aunt, "I met the girl I'm going to marry." During every workday, even the busiest and most stressful ones, he found the time to call his wife several times, just to hear her voice and see how she was. "It always boosted his
spirits," Mr. McGarr said. Profile published in THE NEW YORK TIMES on December 6, 2001.
Lauren Huber posted this
tribute
on one site:
Peter Milano was a kind, caring and loving person who loved his family with all of his heart and soul. He would walk on water for his family letting nothing get in his way. Thats the person he was. As well as very giving towards others. I'd known Mr. Milano, as I called him, for a long time. I have been very very close friends with his daughter since we were little and we met at Tradewinds Beach Club. Mr. Milano loved to come down during the summer when ever he could and spend time with his family. Whether it be boogie boarding with his kids, talking with friends, cooking burgers or just simply sitting on the beach with hs wife he loved being there. I remember how he would always look after all of us making sure we stayed out of troule, had enough sun block on, checked in with our parents, and always told him where we were going. One thing I will always remember is how he would make me drink cranberry juice because it's good for you and if I didn't drink all of it I had to come back later to finish it. The funny thing is now I drink cranberry juice all the time. Mr. Milano meant so much to me he was like another dad to me and I will never forget him. Although it is hard not having him here, we are all luck to have had him in our lives. Love always Lauren
Susan Haberman had
this
to say:
I met Pete while commuting on the ferry. We began by just saying hello to one another and eventually my friends knew his friends and so on. Over time, I learned about his love (and sometimes frustration) for crossword puzzles (and his being a terrible speller), his dedication to his family, and his general love of life. No matter what was going on, Pete always had a smile and nothing but kind words to say, to everyone. He would consistently offer his seat if one of the "boat girls" didn't have a seat, a true gentleman.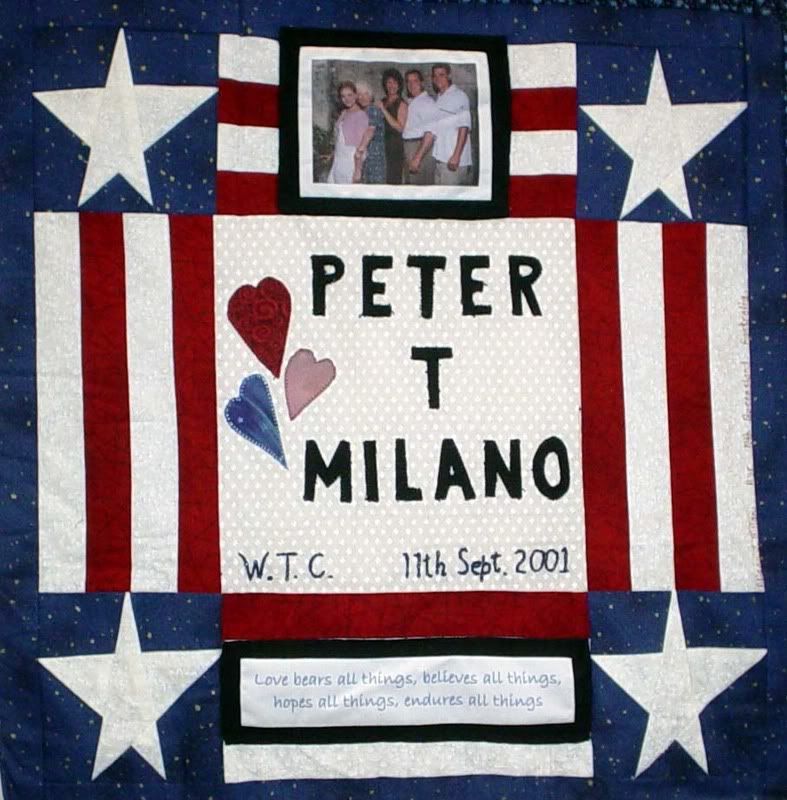 My research on Peter came from the following sites:
http://www.legacy.com/GB/GuestbookView.aspx?PersonId=146278&PageNo=1
http://www.911wvfa.org/events20.htm
http://www.legacy.com/Sept11.asp?page=tributestory&personid=146278
http://www.ahherald.com/2002/ahh020912.htm
http://www.unitedinmemory.net/
I imagine many of us participating in the 2996 project have never met the people we honor. It seems so tragic that so many good people are gone. God bless them all.
To see a complete list of tributes, click
here
.